The Alberta Clinical Research Consortium Annual Conference is Back!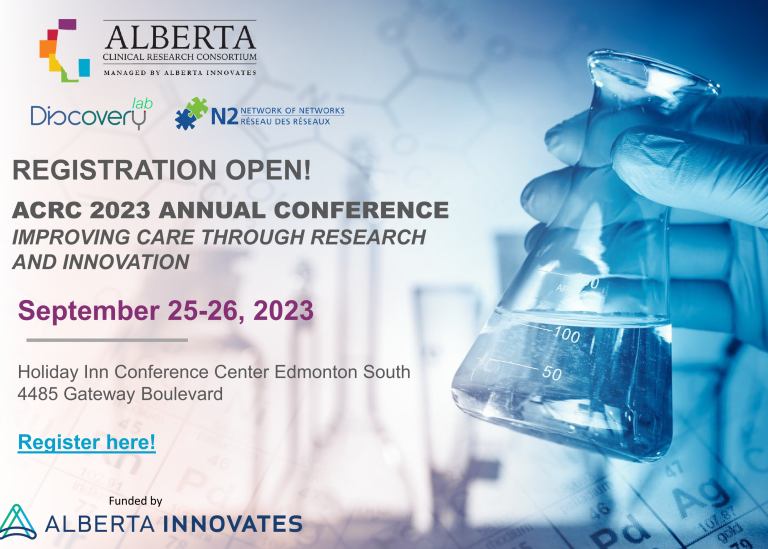 After a 2-year break, the Alberta Clinical Research Consortium (ACRC) is excited to announce the return of its annual conference! The 2023 conference is funded by Alberta Innovates and is brought to you in partnership with DiscoveryLab and N2 Canada. This year's conference theme is centred around Capitalizing on Alberta's Strengths in Clinical Research, showcasing how the province connects innovators, expands frontiers, and fosters real-world impacts in clinical health research and clinical trials.
This year's event features a packed and exciting agenda featuring:
Company pitch presentations
A workshop on cell and gene therapies
Presentations and panels addressing emerging topics in clinical research
Sessions on data and digital health
Discussions on integrating research into care and pathways to commercialization.
Opportunities to connect with Alberta's clinical research community and learn about services and supports.
Join us on September 25th and 26th, 2023, at the Holiday Inn Edmonton South (4485 Gateway Blvd Edmonton, AB) for this must-attend event! Tickets are moving quickly, so make sure to register today.
Registration is available through Eventbrite. An agenda and additional information can be accessed through the same link.
If you have any questions or concerns, please contact acrc@albertainnovates.ca.