Why Alberta for your next clinical trial?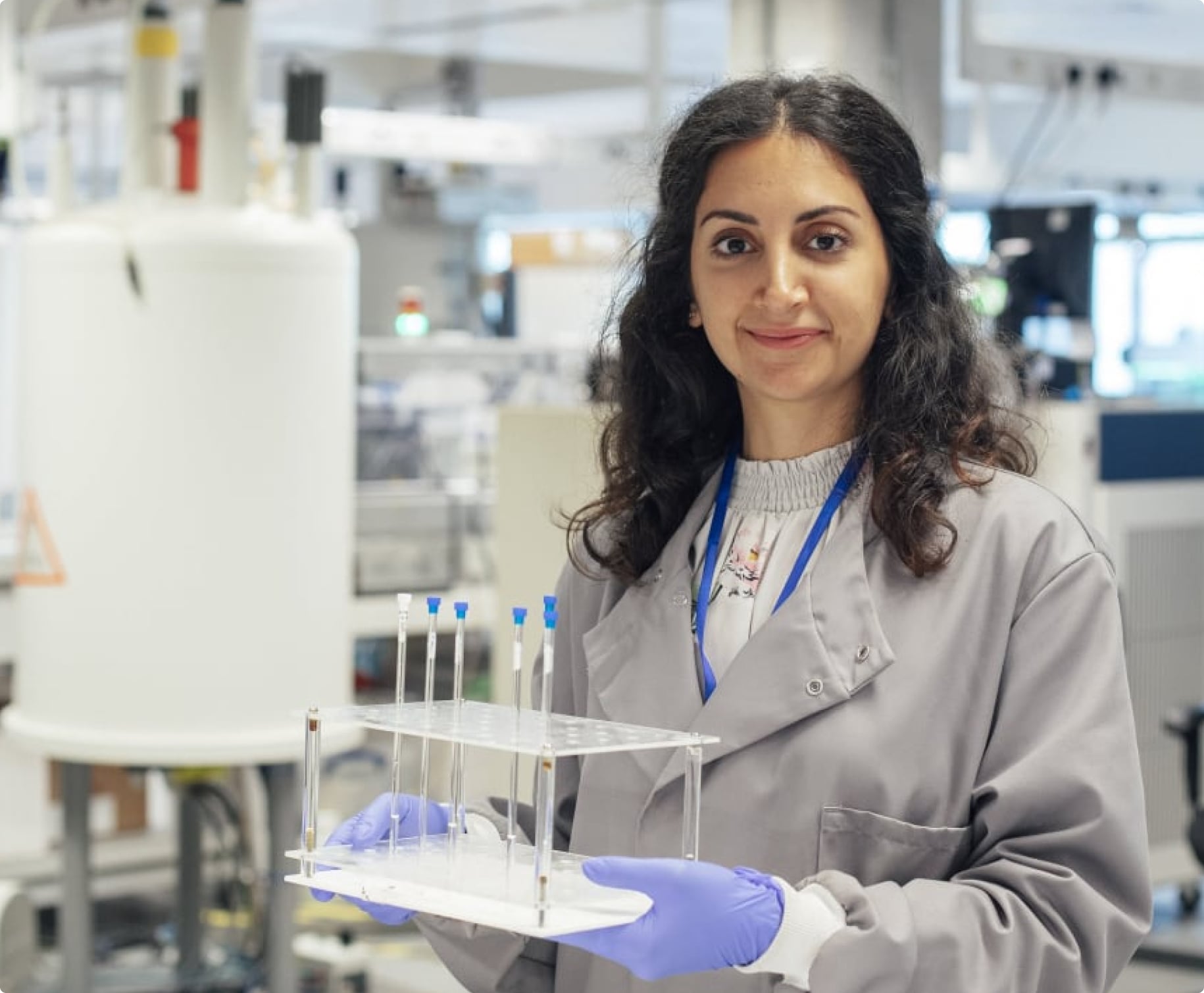 Every year, pharmaceutical, biotech, and medical device companies from across the globe rely on the advantages of Alberta's unique clinical trial environment to advance their research. 
That's because our province is home to world-class investigators, a high-quality clinical trial infrastructure and one of the largest integrated health systems in North America. Our effective ethics framework allows trials to start faster and with less operational burden. And our steadfast focus on continuous improvement ensures industry partners benefit from cutting-edge research capabilities at every stage.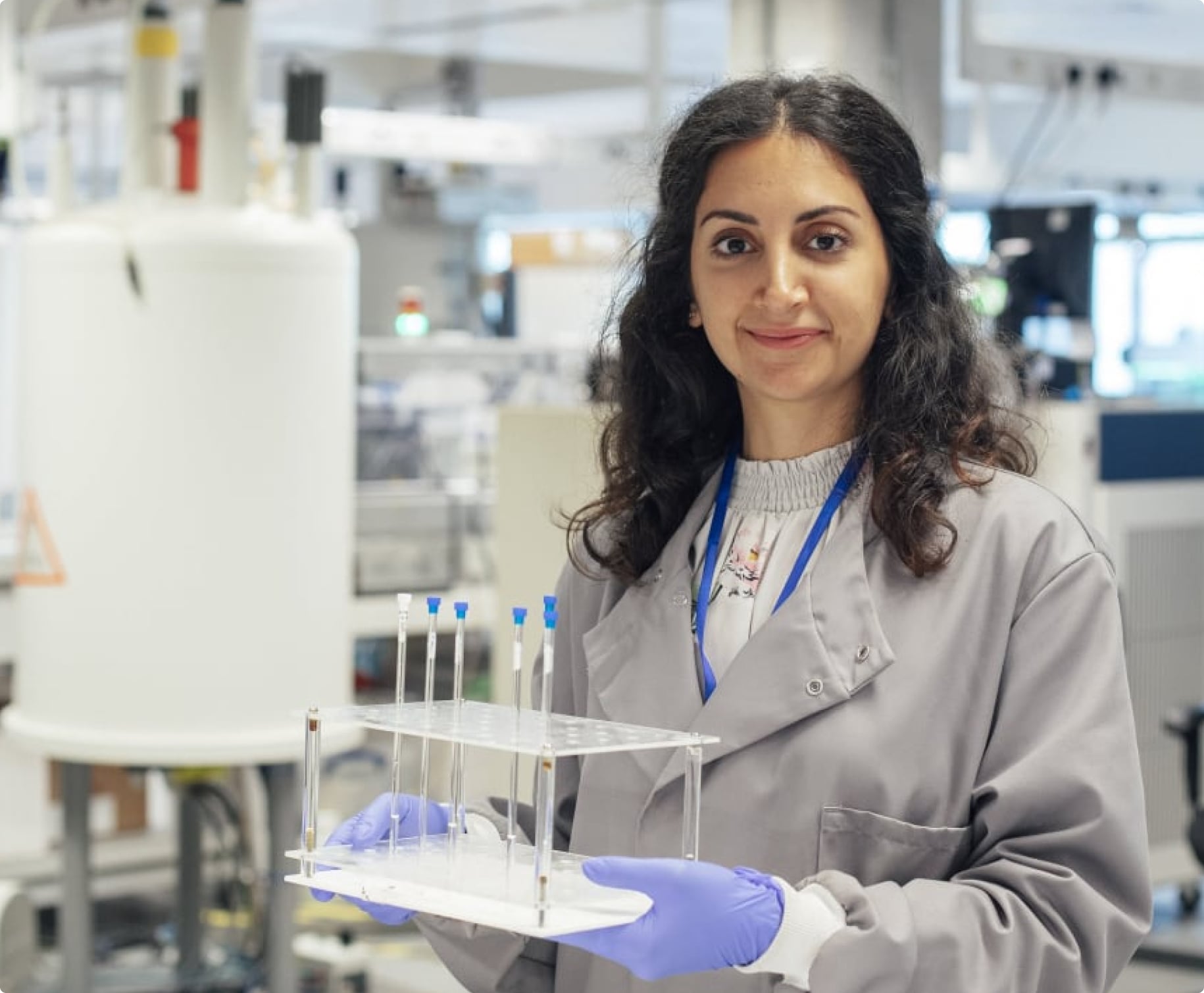 There's a reason more organizations are looking to Alberta to advance their clinical trials. Below, you'll discover what sets us apart.
Alberta is Canada's fourth most populated province – home to more than four million people all served by one integrated health care system. While primarily English-speaking, the population is distinctly diverse, with representation from all ethnic groups and 13 per cent of residents belonging to a visible minority group.   
More than 70 per cent of Albertans live in an urban area, the majority within the Calgary–Edmonton corridor (one of the most densely populated areas in Canada). This positions much of the population close to major hospitals, research centres,  sites and academic institutes.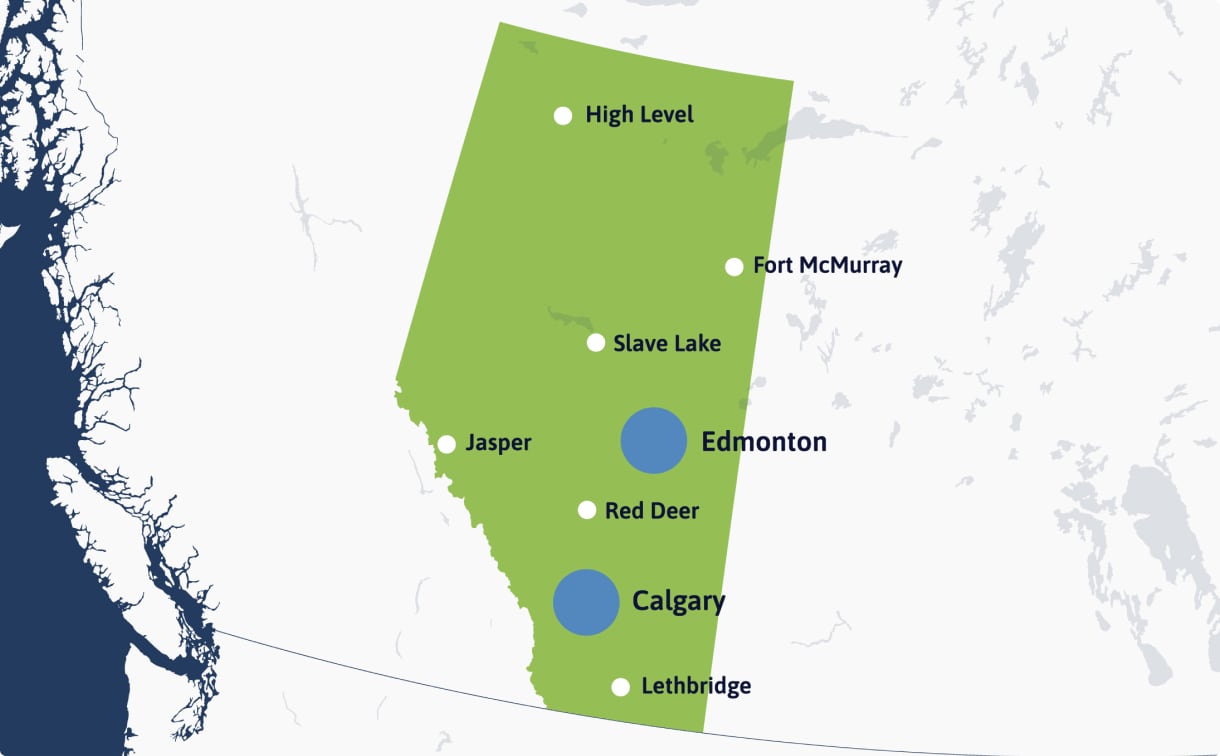 = Proportionate clinical trial activity. Three ethics boards oversee trials across the province.
A dynamic clinical trial environment
Driven by world-class universities, an integrated healthcare system (with state-of-the-art hospitals) and innovative companies, Alberta is one of the most active and high performing clinical trial destinations in Canada. There are currently clinical trials underway across all major therapeutic areas and indications.
Alberta researchers have both national and international experience in:
Leading and participating in large, multi-site studies (acting as a sub-site or serving as a lead site to manage other sites)
Commercialization opportunities
Pragmatic trials
Both industry-sponsored and investigator-initiated trials
Phase 1/first-in-human studies (with dedicated phase 1 units present in Edmonton and Calgary)
1400+ active clinical trials
850+ principal investigators
2 of Canada's most active research cities
3rd most active province for clinical trials
(24% of current Canadian clinical trials are being conducted in Alberta)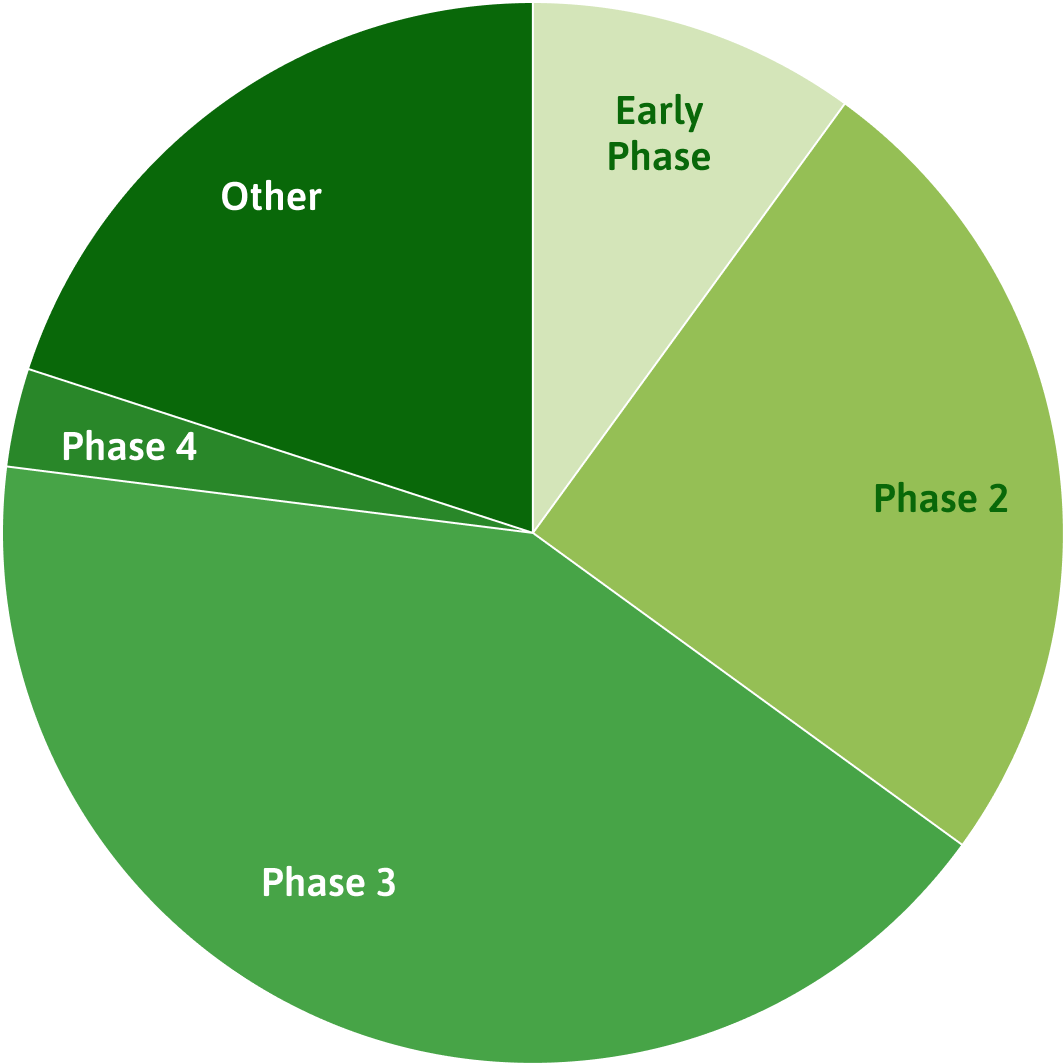 Top therapeutic areas by study volume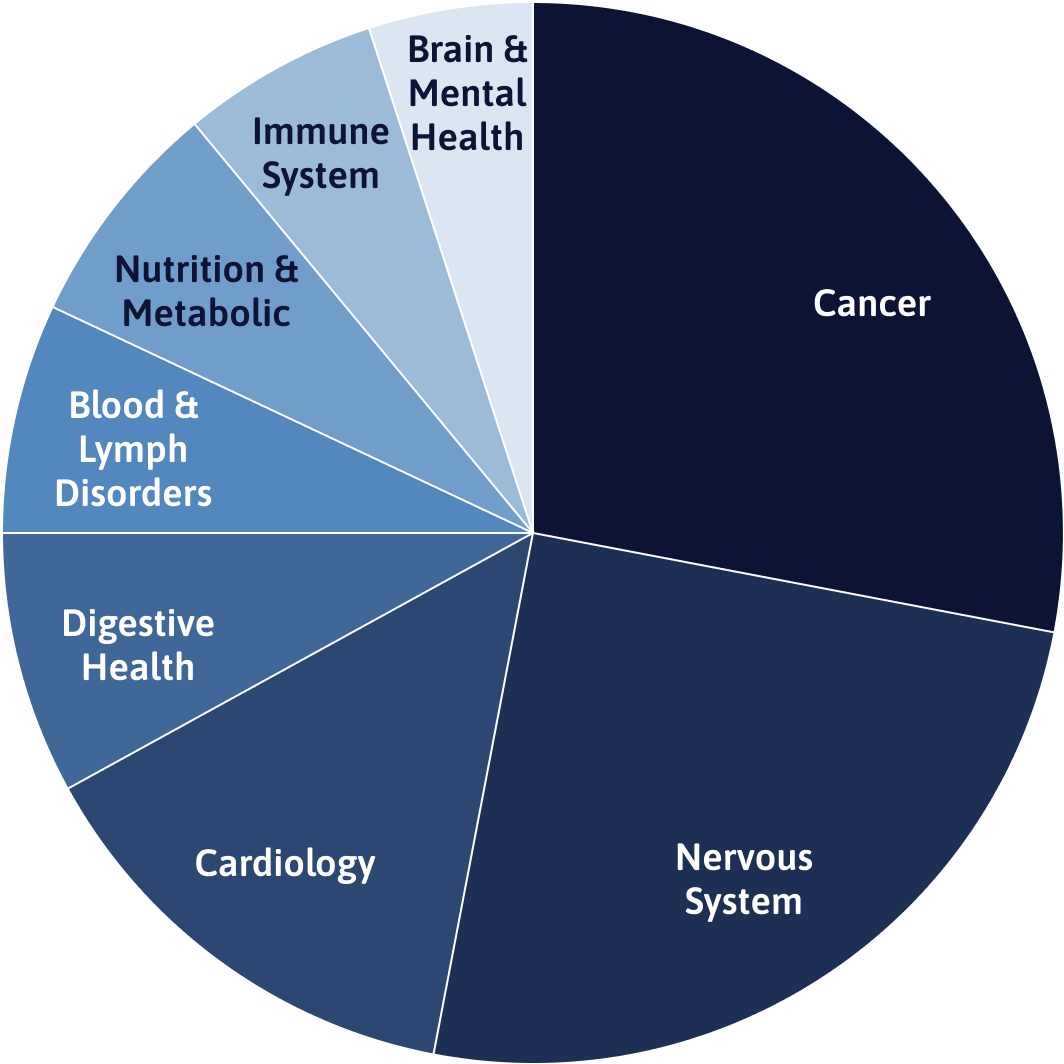 Source: ClinicalTrials.gov. Last updated February 2021.
A vibrant life-sciences industry
Comprised of hundreds of startups, established companies and multinational organizations, Alberta's life-sciences industry employs more than 15,000 highly trained Albertans. 
$1 Billion Revenue generated by Alberta's life sciences sector
Top subsectors include health biotechnology, pharmaceuticals and medical technology and devices
35% of industry revenue and investment comes from US and international markets
Streamlined access to high-quality data and participants
Alberta's public health system – overseen by Alberta Health Services – is the largest integrated healthcare system in Canada and the fifth largest in the world.
This unified system allows for streamlined access to high quality, robust patient data. A single electronic medical records system covers the majority of the patient population. In addition, initiatives such as the Alberta Real World Evidence (RWE) Consortium enable access to administrative data including incidence and prevalence, treatment patterns, adherence, persistence, safety monitoring, comparative effectiveness and cost-effectiveness.
Patients and healthy participants suitable for clinical trials can be easily identified and engaged with. A single point-of-entry helps identify potential participants and enables contact with physicians, hospitals and research centres across the province. A highly informed population combined with key public awareness campaigns, such as Be the Cure, contribute to higher levels of clinical trial participation.
100 per cent of the province's medical records and administrative data is electronic
124 hospitals are overseen by Alberta Health Services and Covenant Health
High willingness of population to participate in clinical trials
Effective ethics framework
Key efficiency and quality enablers
Research labs and facilities
Housed within our collaborative network of academic institutions (including two of Canada's leading research universities), hospitals and medical research centres is an extensive range of cutting-edge labs and facilities. Our province is home to a full spectrum of technologies including advanced imaging, biobanking, bioanalysis and real-life simulation.
Alberta is home to some of the world's most respected thought leaders across a range of therapeutic areas including cardiovascular health, oncology, rare diseases, and nervous system disorders. Our province's investigators are leading clinicians and experienced, highly trained clinical trialists.
Skilled research workforce
Complementing investigators is a highly trained workforce comprised  of research coordinators, nurses, pharmacists, radiologists and imaging technicians. A high number of masters and PhD graduates work in this sector, and adherence to best practices, including GCP, ensures data produced is accepted by major regulatory bodies.
Strong government support and a collaborative culture between academic institutions and public/private health resources has established Alberta as the place for conducting clinical trials. Numerous initiatives have been introduced to increase patient recruitment, shorten start-up times and reduce costs through competitive R&D tax incentives.
Choose Alberta for your clinical trial
If you're considering bringing your clinical trial to Alberta or would like to learn more about our capabilities, we're here to help.